The Tahoe Heritage Foundation works with the United States Forest Service and other partner organizations to try to achieve a balance between the need to fund restoration and operations and the desire to encourage the public to participate in the many interpretive and educational opportunities available at sponsored sites.  Some events and programs are free, some have modest fees, and a few are higher priced and are clearly fundraisers.  The majority of our programs and events are conducted in conjunction with the USFS at our flagship locations: the Taylor Creek Visitor Center and the Tallac Historic Site.  In addition we support a variety of activities in the greater Tahoe Basin.  Two of those that are currently active are Winter Trek and Generation Green.  We have recently partnered with the Pony Express Group and with the Classic Antique Boat Society for one-time events.
Winter Trek
This environmental education program teaches students about winter-adapting animals, how to identify their tracks and habitat, basin geology, water conservation and use of Forest Service lands.  Fifth grade classes join with a Forest Service guide assisted by volunteers.  They spend a morning on the mountain at Heavenly Valley,  going from place to place on old-fashioned showshoes.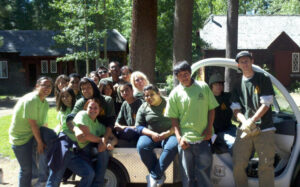 Generation Green
The youth of today are the hope for the future.  THF joins with a variety of organizations in the Tahoe Basin to fund a program for high school students each summer.  These students learn leadership skills, how to be a good employee, and the fundamentals of resource protection.  Often these students continue in natural resource fields of study, returning to be stewards on public lands.