The historically registered Pope-Baldwin Estates at the Tallac Historic Site in South Lake Tahoe are a must see for locals and visitors to the area. The summer estates are open daily during the summer month's, the public is free to wander throughout the estates; stroll through the gardens, visit the Museum, view our Vintage Clothing Exhibit,  view inside outbuildings used to house servants and guests, watch the Blacksmith in action. The Baldwin Museum Gift Shop is filled with cheerful Lake Tahoe seasonal and period-inspired merchandise, clothing, unique gifts and books. Our friendly staff and volunteers in the Gift Shop are happy to help you with your purchases and while you are shopping, be sure to visit with our Museum Docents. These specially-trained volunteers can help you with questions about the historic estates, programs, tours, demonstrations, upcoming special events and area information.
Tahoe Heritage Foundation, non-profit partners with the USFS, Lake Tahoe Basin Management Unit to offer programs, tours, and special events. For more information please explore this year's Lake of the Sky Journal.
---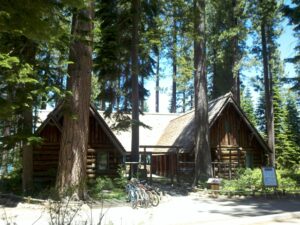 BALDWIN MUSEUM
The Place to Start:  Come explore our free museum and learn about the area's history! A short introductory video acquaints visitors with the history of life at Tahoe, and exhibits include a 1920s kitchen, information about the infamous Lucky Baldwin and his family, and a room about the Washoe people. The Museum Store sells merchandise interpretive of the period and tickets to regular programs, tours and events.
May 26 – September 16 2018
Daily 10:00 a.m. – 4:00 p.m.
FREE!
---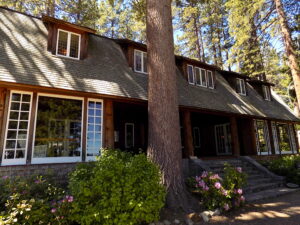 POPE HOUSE TOUR
This docent-guided tour gives a glimpse into the luxurious lifestyle of wealthy society people who summered at Lake Tahoe, as well as the architecture and restoration of this late-19th Century home. The tour takes approximately an hour and is filled with stories of early times.
May 26 – Sept 16
Daily:  11:00 a.m., 12:30 p.m., 2:00 p.m.
$10 Adult
$5 Child 6-12 yrs
Free 5 yrs and younger
* Tickets are available in advance in person at the Baldwin Museum or by phone at 530-541-5227

---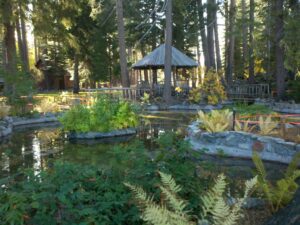 GARDEN TOUR
Pope-Baldwin Estates
Meander through the estate gardens, learning about the early development of the estate buildings and gardens as well as the reintroduced historic Washoe garden.  Imagine yourself spending your days and nights at Tahoe in splendor. Enjoy light refreshments during your tour that starts at the arboritum.
June – Sept 16 2018
Specialty Tour
Members Free
Dates / Times TBA

---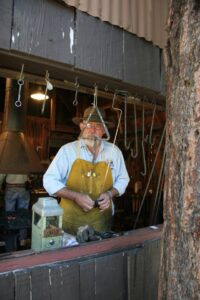 BLACKSMITH SHOP
Experienced blacksmiths operate the blacksmith shop throughout the summer.  They make forged items, fire pokers, marshmallow forks, soup ladles, and much more, which are sold in the Baldwin Museum.
Open Wed – Sat 10 a.m. – 4 p.m.
June – September 16
Check for additional times at Baldwin Museum
---
ARTIST WORKSHOP
Pope Estate
Tallac Historic Site
Pottery, Watercolors, Caligraphy  & more!
July/August/September  10 a.m. – 3 p.m.
*Check back for programs, dates and times!
---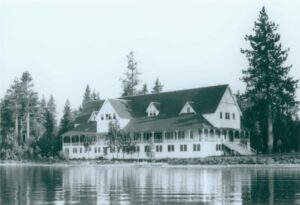 MOBILE DEVICE SITE TOUR

Stroll through the entire Tallac Historic Site using your smartphone or other mobile device to learn about the site's history, buildings, and people.
Click here to start.
HINT!  Download prior to arriving at the site due as reception varies day to day.
Available May 26 through September 16, 2018
Free!
---
GROUP TOURS       
BOOK YOUR 2018 GROUP TOUR NOW!
Interested in bringing a group to the site? You can schedule a group tour by emailing  info@tahoeheritage.org or by calling the Tahoe Heritage Foundation Group Tour Coordinator at our office (530) 544-7383 year-round or (530)-541-5227 Baldwin Museum May – September.
Group Tour options:
Estates Walk: This tour leads guests on a trip through time, learning about the history of the Tallac Resort and all three historic estates.
Cost: $10 per person, children under 12 Free
Pope House Tour: Explore the Pope House and learn about the luxurious lifestyle of the wealthy families who came to Lake Tahoe in the 1920s. Discover the beauty of the house's architecture and learn about its restoration. Groups of 12 or fewer can be scheduled at 11:00am / 12:30pm / 2:00pm directly through our Baldwin Museum Gift Shop. Groups of 12-24 (+) can be scheduled through out Group Tour Coordinator at 530-541-5227 May – September / 530-544-7383 October – April *Groups of fewer than 12, we cannot guarantee a private tour.
Cost: $10 per guest
Estate Walk/Pope House Combined Tour is available depending on availability of personnel and number of guests. Want a tailor-made tour or a specific  a specific area of interest you would like to learn about, please let us know!
Group tours must be scheduled at least two weeks prior to the requested tour date.
---
 All fees are used by the Tahoe Heritage Foundation to further the historic Pope and Baldwin Estates programs and restorations. Thank you!
---
The Tallac Historic Site has been featured as one of the
Save
Save
Save
Save
Save