The Tallac Gift Shop, located in the Tallac Museum at the historic Baldwin Estate, is filled with Lake Tahoe summer activity gifts, period-inspired merchandise, clothing, unique gifts and books. Our friendly volunteers and staff are happy to help you with your purchases while you are shopping.
Also available:
Ticket Purchasing for all Tours, Programs and Special Events
Memberships and Donations
SHOP HOURS – Seasonal
Daily May to September
10:00am–4:00pm
*Opens Memorial Day Weekend

CONTACT THE TALLAC MUSEUM GIFT SHOP
Phone: (530) 541–5227, ask for the Gift Shop
Email: retail@tahoeheritage.org
CONTACT YEAR ROUND
Phone: (530) 544–7383, Main Office
Email: retail@tahoeheritage.org
Tahoe Heritage Foundation has published several books and created special items such as bookmarks, ornaments, shirts etc for purchase that enhance the public understanding and enjoyment of the Tallac Historic Site.  Available at the Tallac Museum Gift Shop May-September and off-season through our Main Office.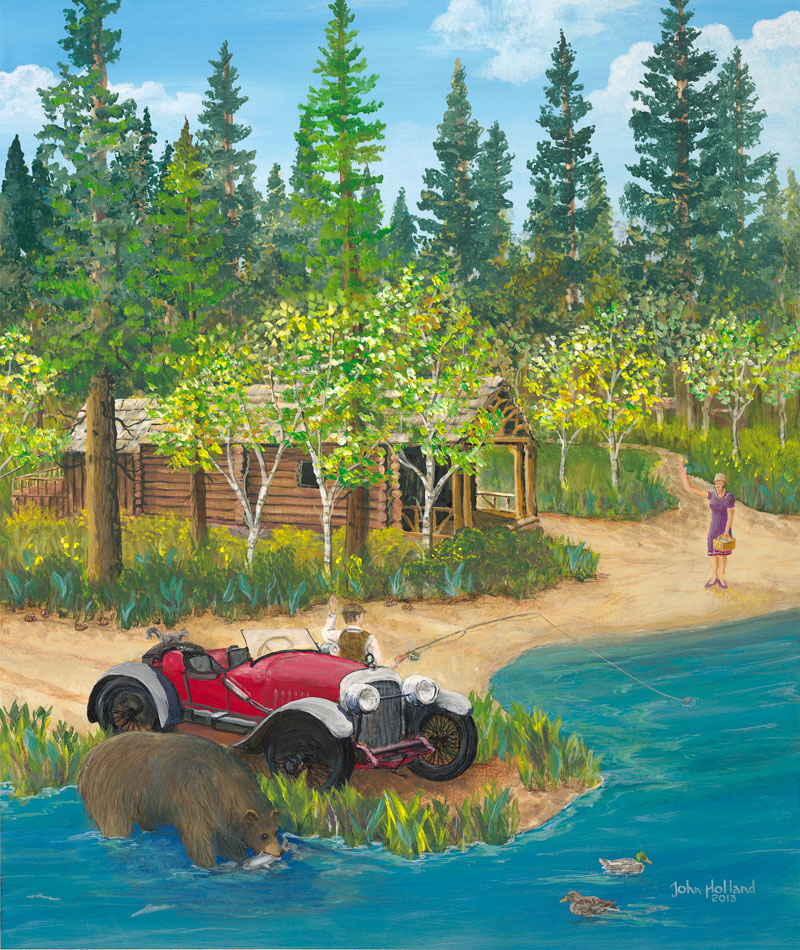 Gatsby Posters
 Since the mid-1990s the Tahoe Heritage Foundation has commissioned a poster for the Annual Gatsby Festival.  First year of publication $25. Next and additional year(s) posters may be up to $50 each and are considerred collector items .  Prices vary as to signed, numbered and certification.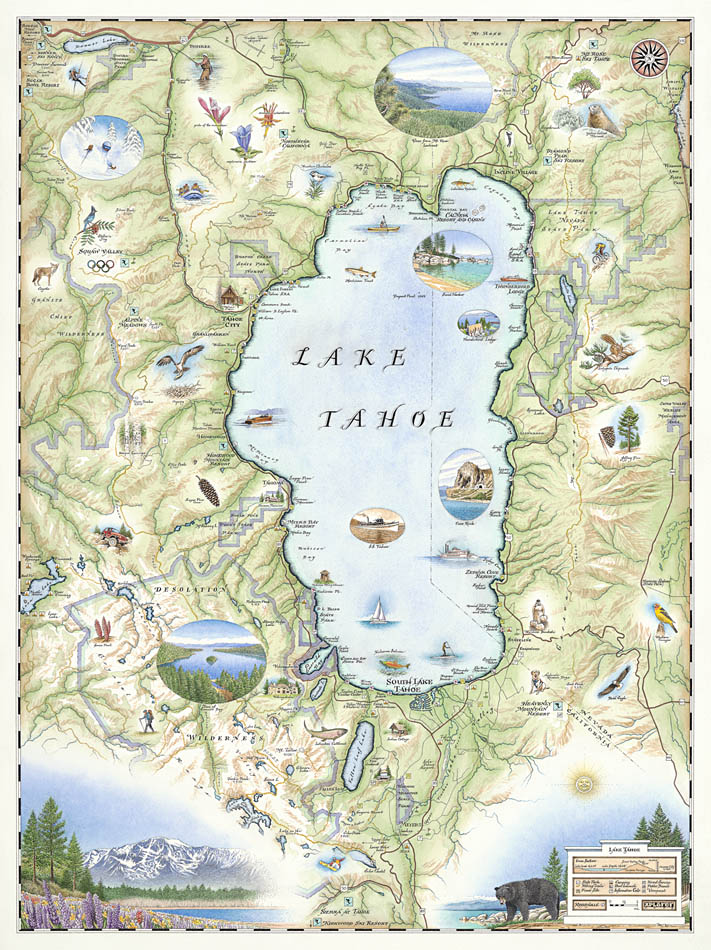 Maps – Lake Tahoe
Tahoe Heritage Foundation worked directly with Exploer maps to produce this beautiful map of Lake Tahoe; with half going to support preservation, restoration and interpretation in the Tahoe Basin ($30).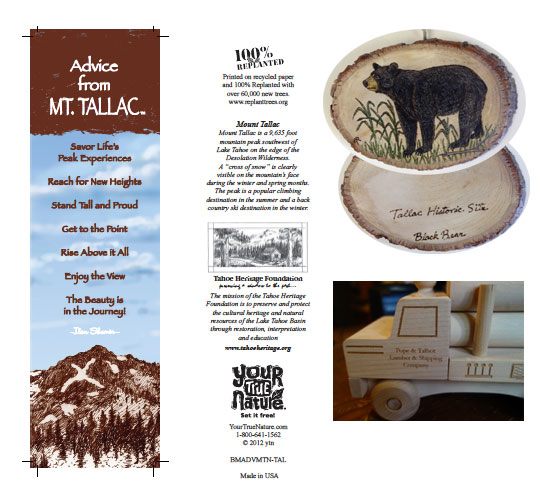 Customized Tallac Historic Site and Tahoe Heritage Foundation Items
Your True Nature Mt.Tallac bookmarks, Maple Landmark  custom logging truck in honor of the Pope family logging business, Deneen Pottery historic site coffee mugs, Wild Tribute van and Mt.Tallac inspired t-shirts and hoodies.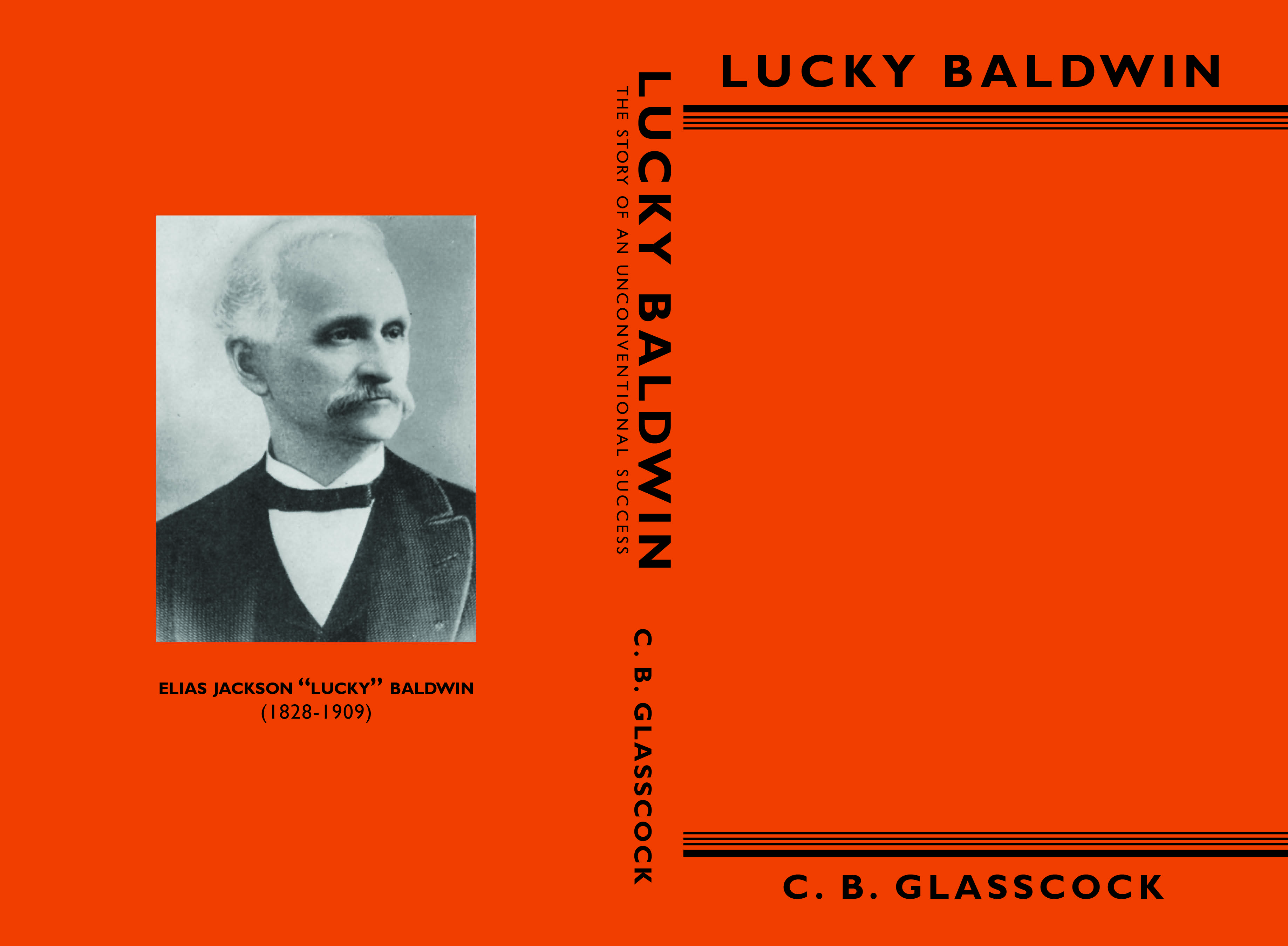 Lucky Baldwin Book
In 1933 the original Lucky Bladwin book by C.B. Glasscock was published.  For many years it was republished by Nevada Publications; printing was discontinued. Tahoe Heritage Foundation obtained the rights to republish the book and in 2012 became available at the Tallac Historic Site where it remains a best seller ($19.95)
Tallac Historic Site Booklet
In 1983 Robert Burke and Ken McGowan wrote a booklet describing the Tallac Historic Site.  Tahoe Heritage Foundation obtained the permission to publish the booklet with added information about the current operation of the estates and the original historic information which remains unchanged ($5).